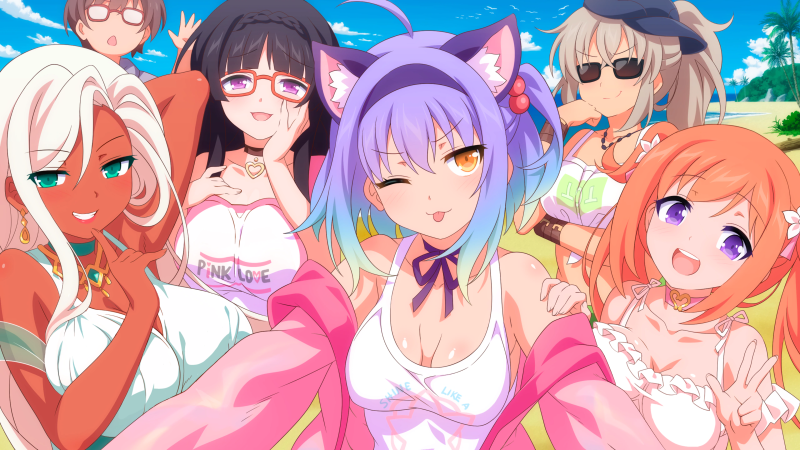 Join Hiroki on a relaxing vacation at the beach with his adoring succubi girls and grab a 2 minute Platinum!
Welcome to the fourth part of the story, following on from Sakura Succubus, Sakura Succubus 2 and Sakura Succubus 3. The Sakura Succubus series is an adult-themed visual novel game following a plain and normal man called Hiroki who discovers that most of Japan's most famous and important women are actually Succubi - demons who appear in female form (in this case through barely clothed, big breasted, beautiful women). In his normal life, these women would be well out of his league but for some reason they're all obsessed by Hiroki's scent leaving him stuck in complicated love games as he's dragged back and forth trying to keep them all entertained.

The fourth story continues from the previous games and takes the group to the beach for a well earned vacation. Can Hiroki keep them all happy and ensure the trip ends up in a positive way or will he be decapitated by a flying volleyball?

As is the standard for the Sakura Succubus games, it follows a basic visual novel format with a variety of settings you can change to increase the speed of the text or to allow you to skip to important choices. There are a number of dialogue choices you'll have to make as you work through the story, but with the fast forward functionality the Platinum can still be yours in a single playthrough within 2 minutes.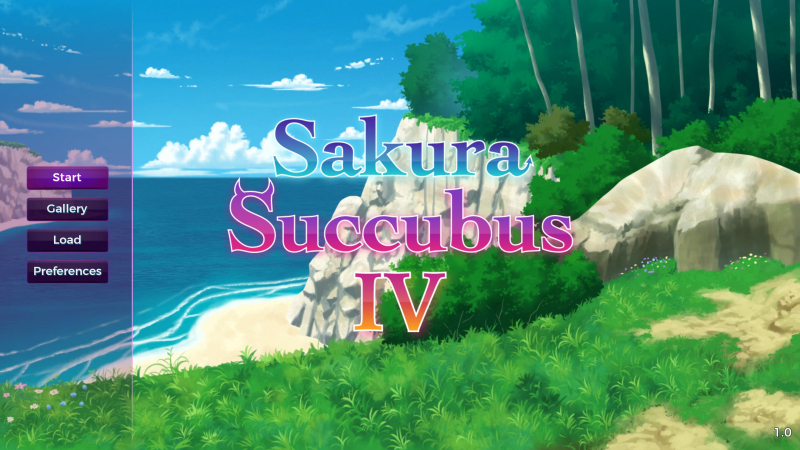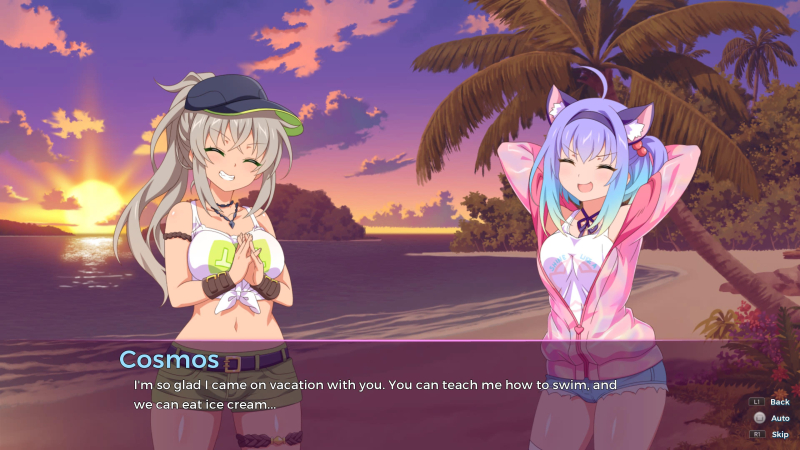 ---
Overview
Release Date: 19th August, 2021
Publisher: Gamuzumi
Developer: Winged Cloud
Date Started: 18th August, 2021
Date Completed: 18th August, 2021
Version Played: Digital
Price: £7.99 (PS4 & PS5 Version Bundle)
Note: Gamuzumi were kind enough to provide a copy of the game for me to review.
---
The Good
The PS4 and PS5 version are bundled together meaning two Platinum trophies are available.
If you want to fast forward through the story, the Platinum can be yours in around 2 minutes!
Like the earlier games, the story continues to be well written, entertaining and full of twists and turns.
New artwork showing off the new characters & outfits as well as unseen background locations.
It feels like the longest game in the series so far, jam packed with action and stories.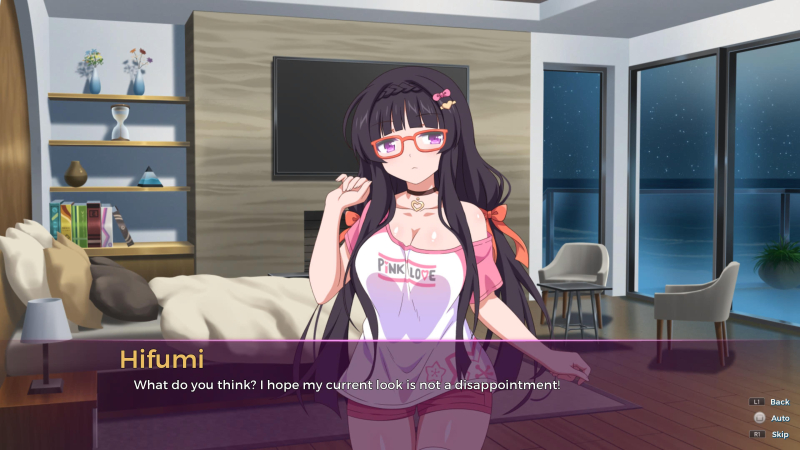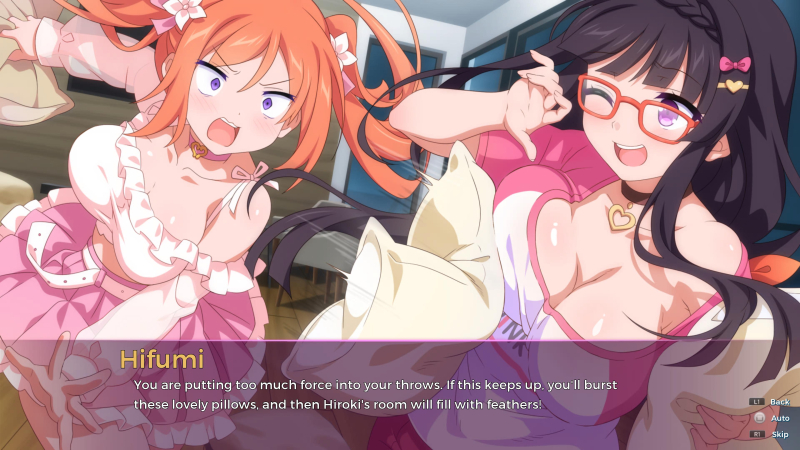 ---
The Bad
Some trophies are locked behind a specific ending, but the story more or less ends the same way regardless of your choices.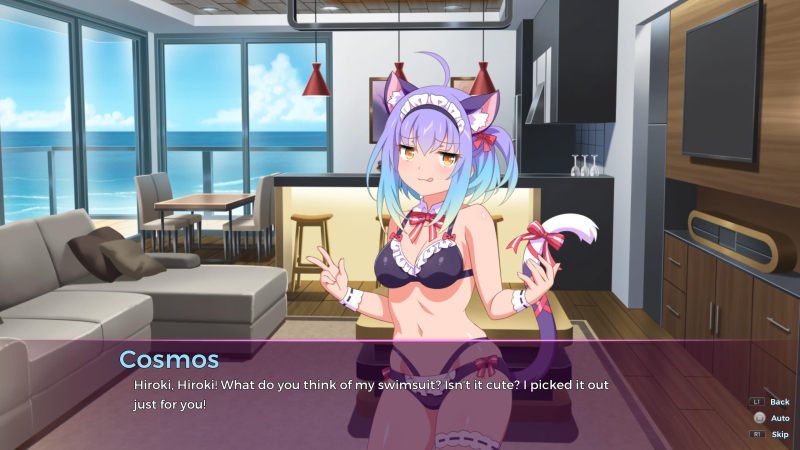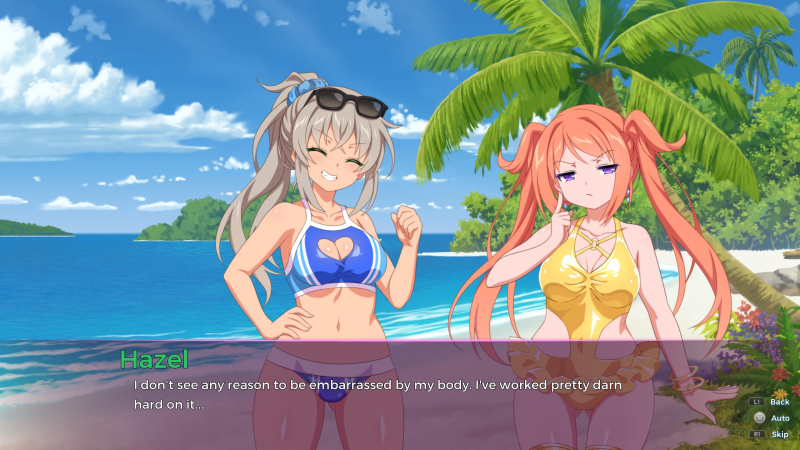 ---
Hardest Trophy
Say Cheese - and don't blink
If you follow the walkthrough below, all of the trophies will pop in a single run. This one specifically requires you to answer positively to every dialogue choice throughout the story so it's missable if you don't know what you're doing.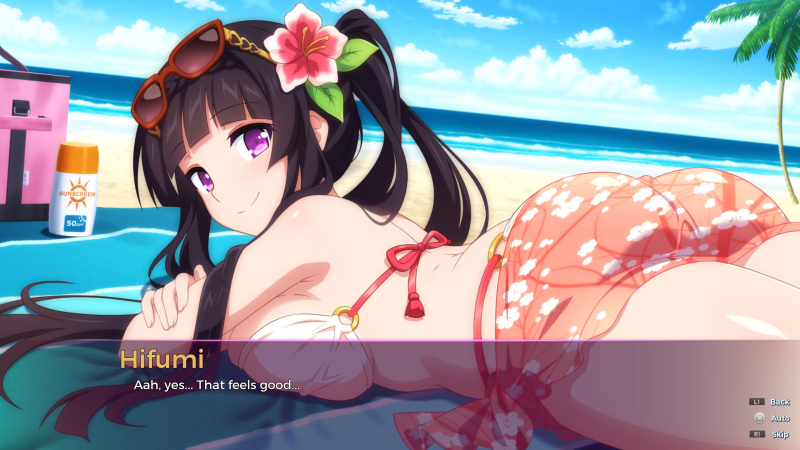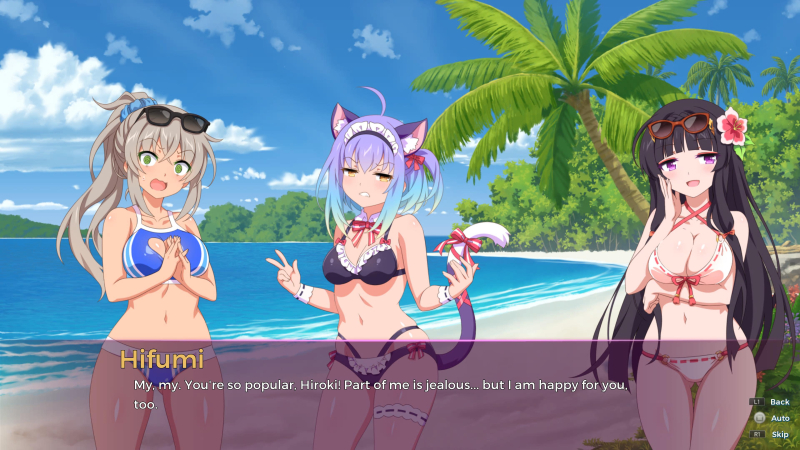 ---
Helpful Tips / Bugs / Glitches / Exploits
No exploits are required. If you're looking for a fast Platinum, head into the settings before you start and copy the image below, then press R1 to skip the story. You can unlock all trophies in a single playthrough providing you make the correct choices so follow the walkthrough below and you'll have the Platinum in under 2 minutes.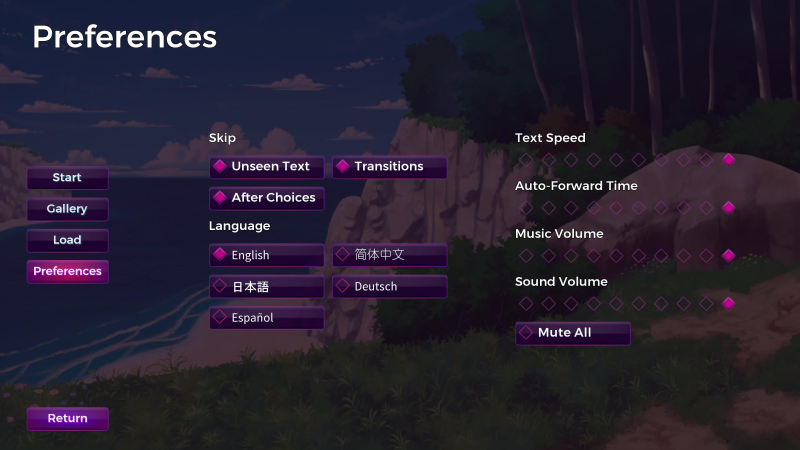 Platinum Trophy Walkthrough
You need to provide a positive answer whenever there is a dialogue choice to make. Follow this for the best ending of the game.
Best Ending
Start Game

TROPHY: Beneath the setting Sun

Maybe you have a point...
You could never disappoint me, Hifumi.
Have a bath.
Sure thing, big sis.

TROPHY: Big Sister Hifumi

It looks adorable!
Why don't you try a gentler approach next time?

TROPHY: Kitty Paddle
TROPHY: Things that go bump in the night

I thought it was a good story.
Of course I won't; I'm a gentleman.
Begrudgingly accept.

TROPHY: Working up a Sweat

I don't know if that's the best idea...

TROPHY: Smooth Save
TROPHY: Test of Courage

I doubt that.
Sure, I'll give it a try.

TROPHY: Death or Volleyball

If I get killed by a speeding volleyball, I'll never be able to marry you!
Hang out with Cosmos

TROPHY: Shimmering Sparks

It's fine; don't worry.
Actually, you're heavier than I thought.

TROPHY: Completely Tactless

I'm sorry if I did anything to upset you.

TROPHY: A Kiss beneath the Stars

Sure. Cross my heart.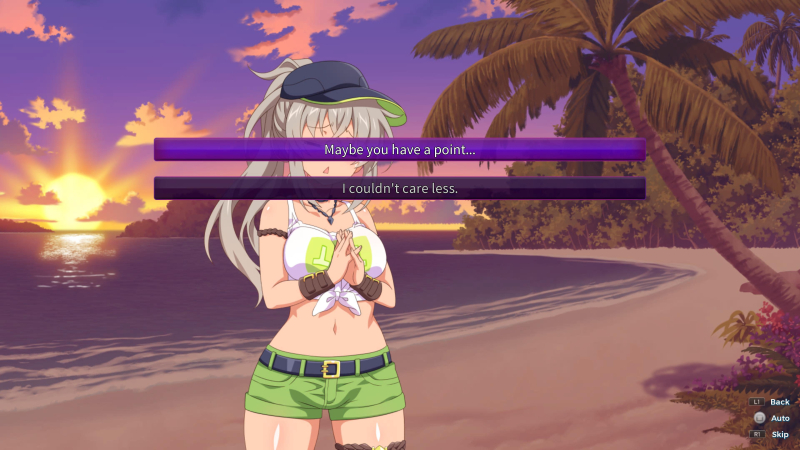 ---
Platinum Difficulty Rating - 1/10
It's very simple. Just read (or skip) through the story and make your dialogue choices. Follow the walkthrough above and you'll have the Platinum in a single playthrough. If you want to play it properly, you will have to be careful with your choices as at least one of the trophies won't pop if you make an incorrect dialogue choice.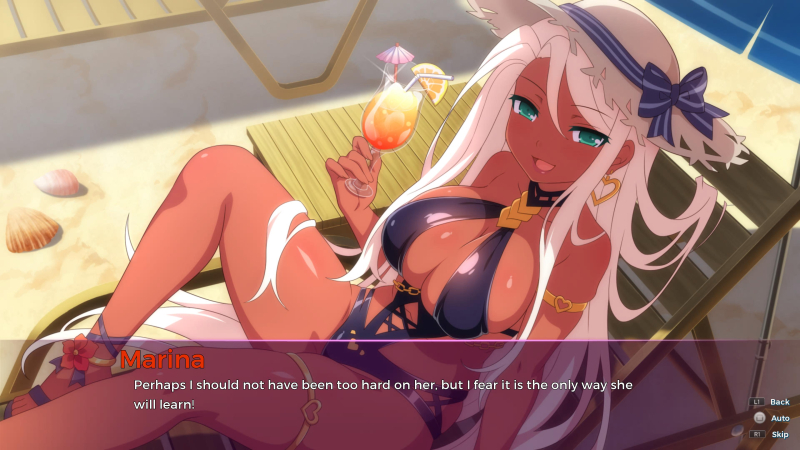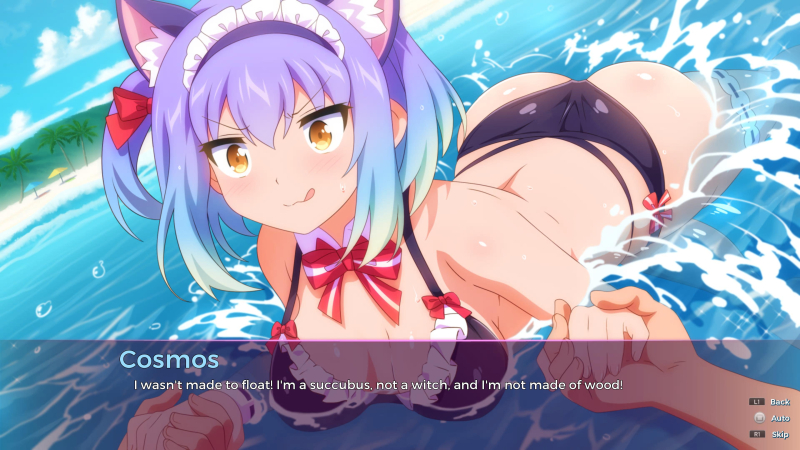 ---
Platinum Time - 2 Minutes
Skipping the story and quickly choosing the dialogue options I mentioned in the helpful tips section above will allow you to unlock the Platinum in around 2 minutes. I personally managed to grab the Platinum in 1 minute 26 seconds. Playing through and reading the story properly will obviously depend on your reading speed, but it should take somewhere around 2-4 hours.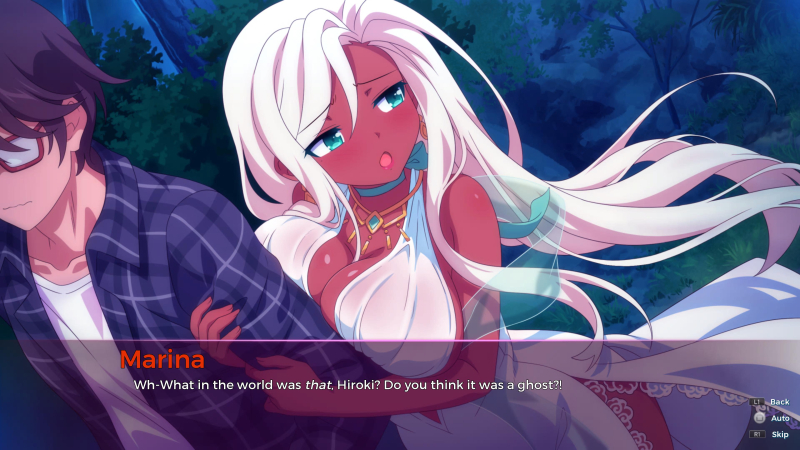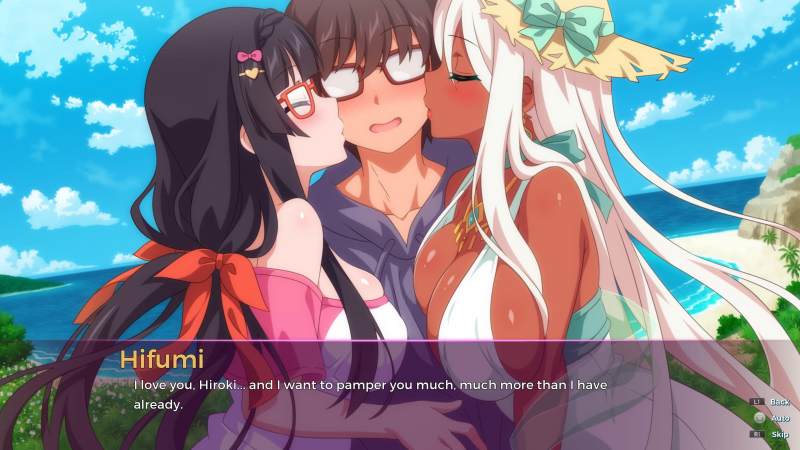 ---
Platinum Enjoyment Rating - 10/10
Another incredibly easy Platinum trophy (or two of them if you include the PS4 and PS5 version), continuing the entertaining story and bringing some new locations and dilemmas into it. Because this can be done in a single playthrough it's actually easier to Platinum than a few of the previous games.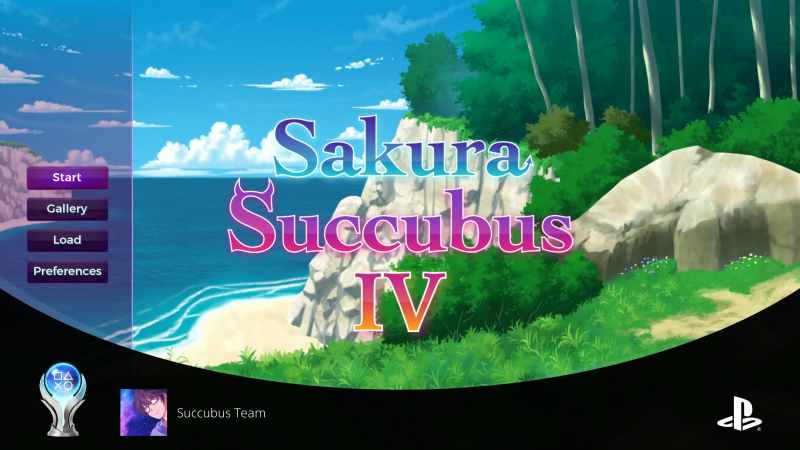 ---
Overall Game Rating - 10/10
The new locations and background scenery bring extra life to the story and I personally thought it was the best of the series. It's good fun to read through as you'll hopefully already be familiar with the characters from the previous games, but of course trophy hunters can just skip straight through it for the Platinum trophy. I'd definitely recommend it to anyone who likes visual novals as the artwork is the best I've seen in any of the recent games I've played. Enjoy some shots from the gallery below.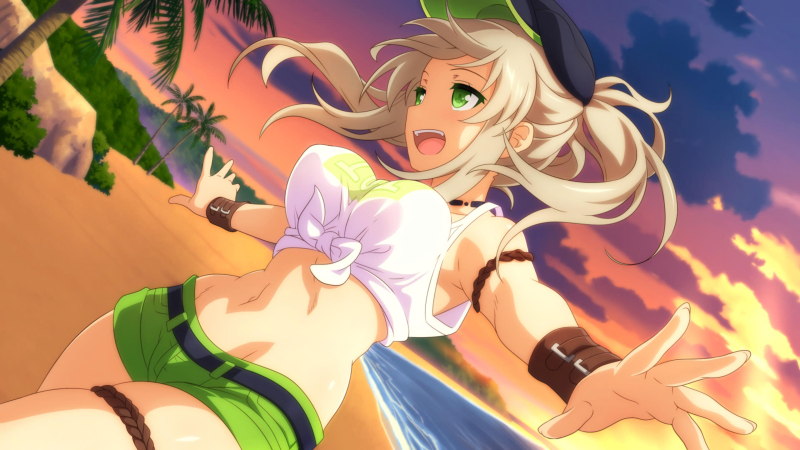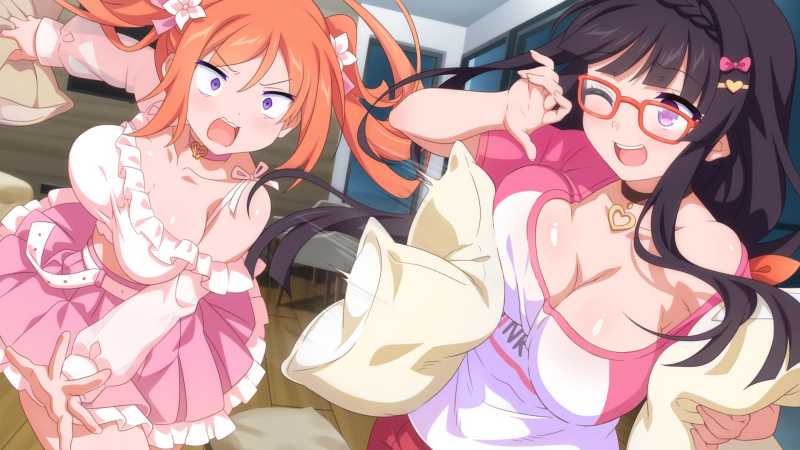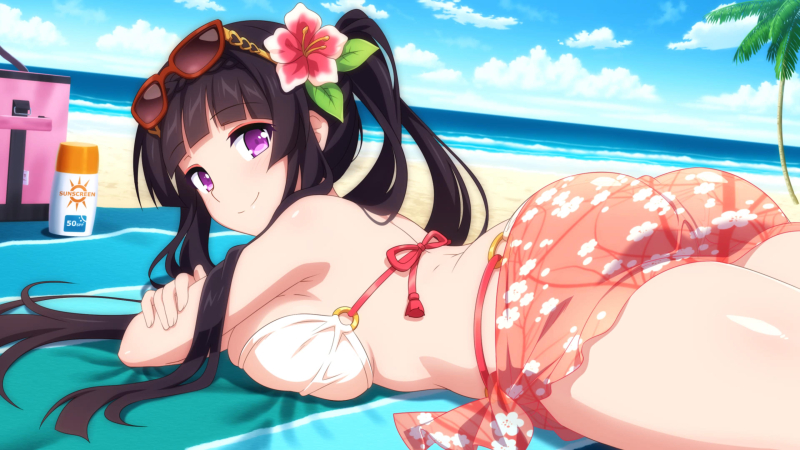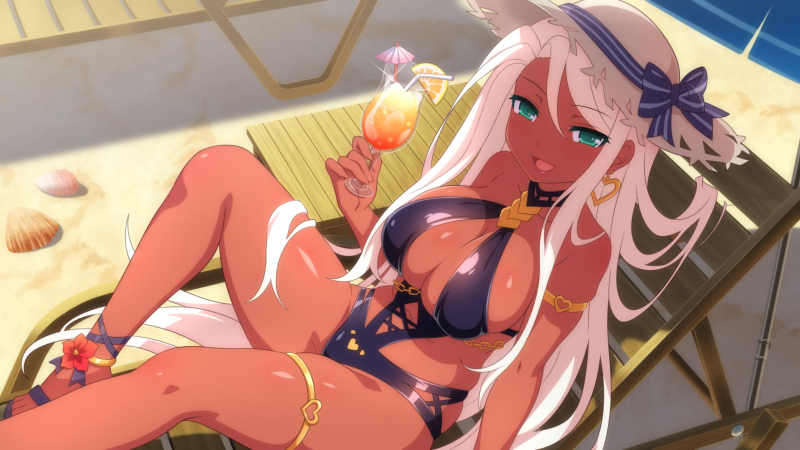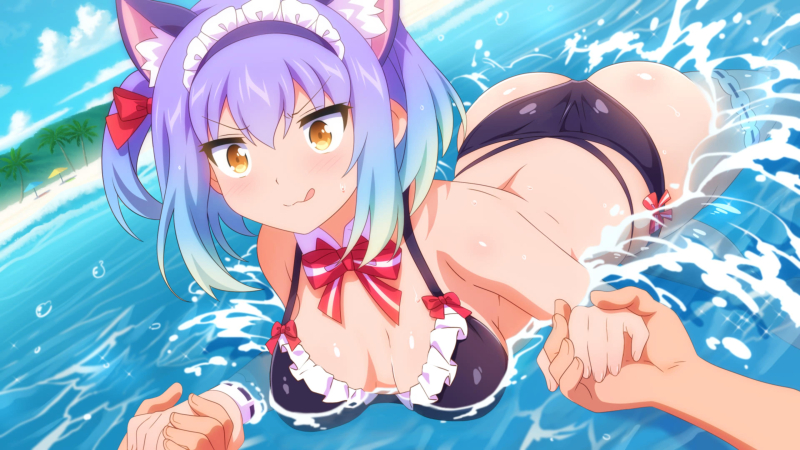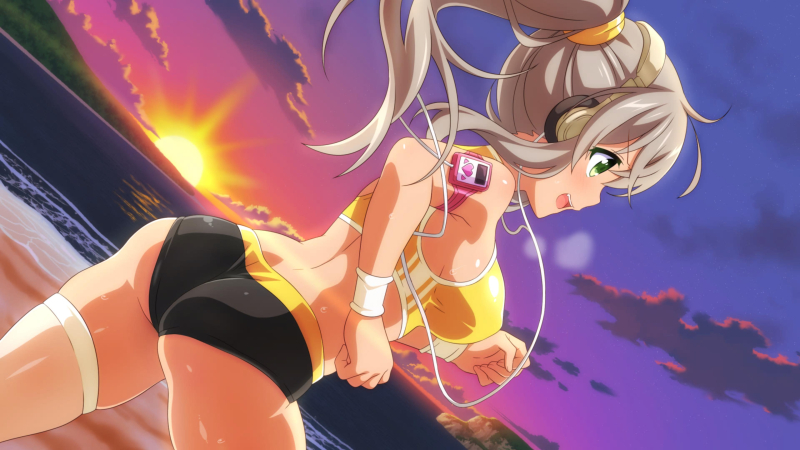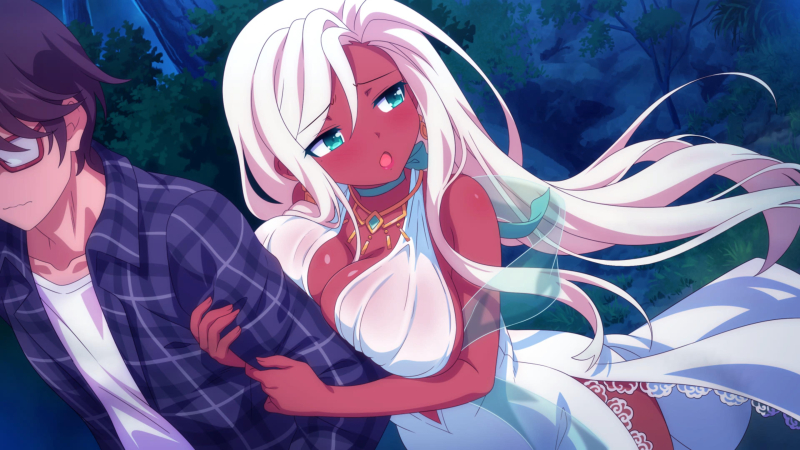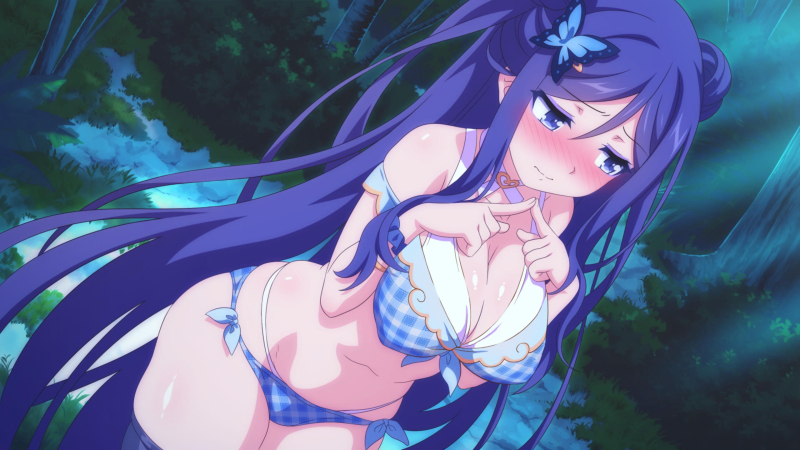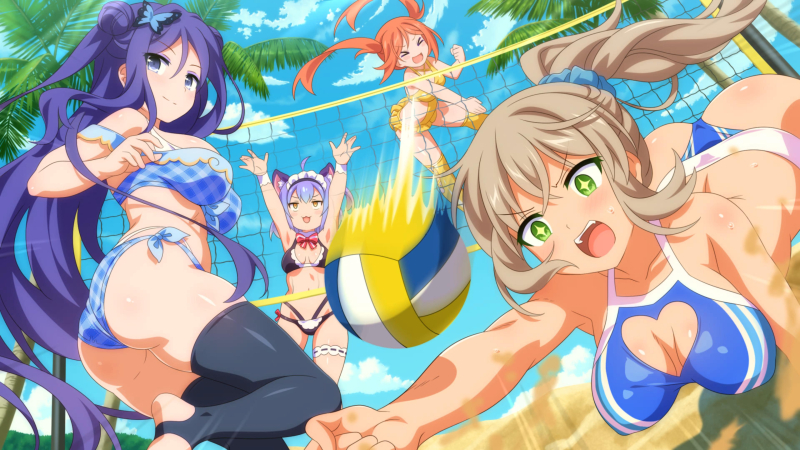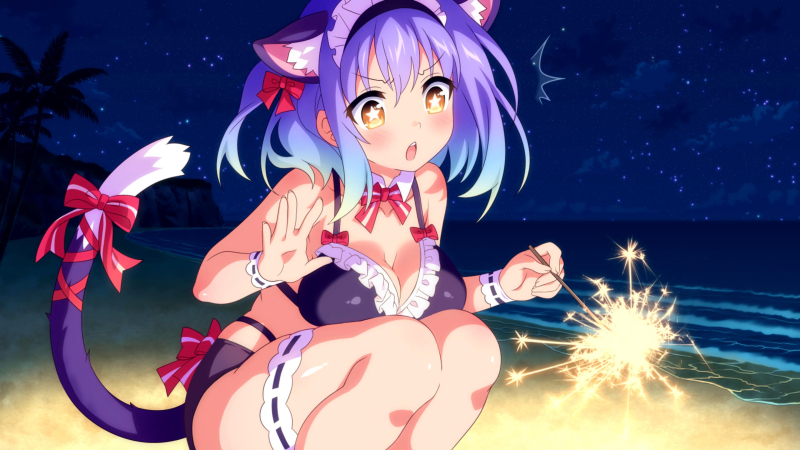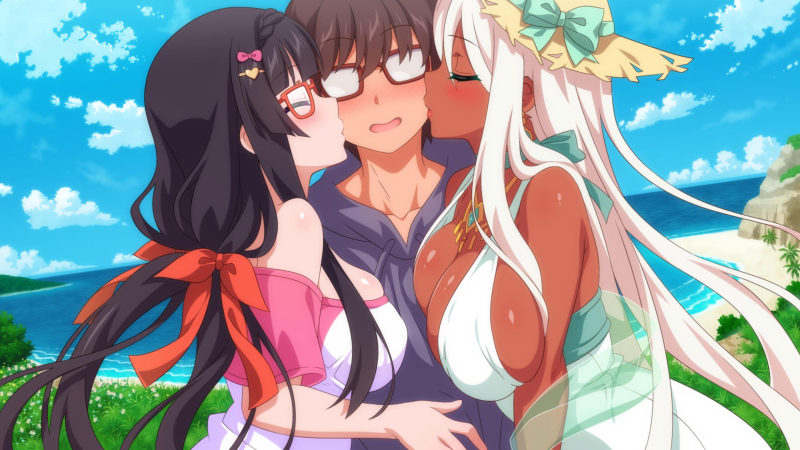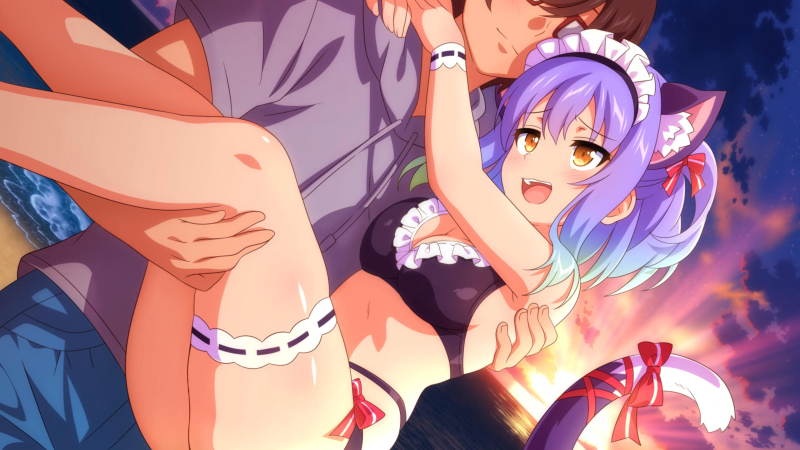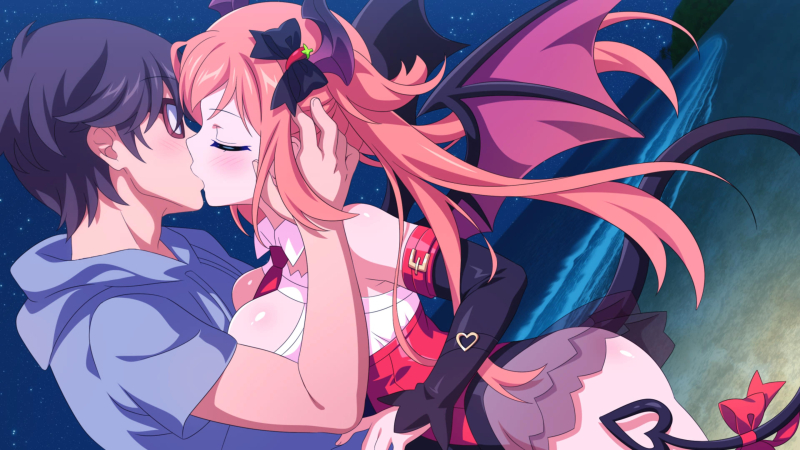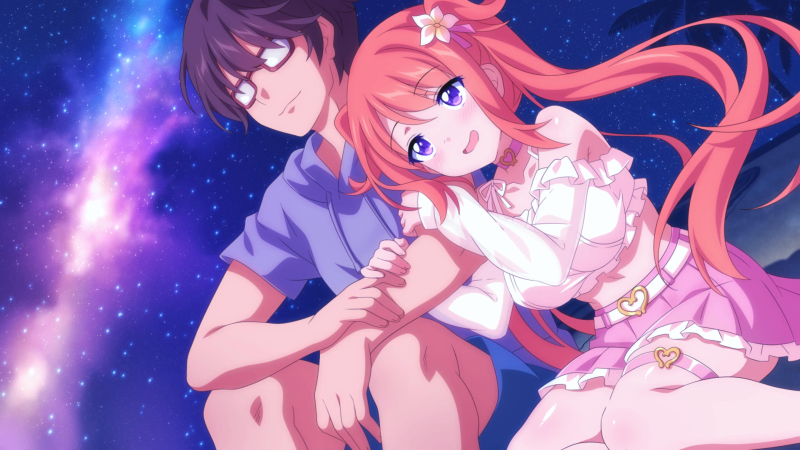 ---
Platinum #686
Here are my most recent Platinum Trophies up to and including this game.

| # | Game | Date |
| --- | --- | --- |
| 686 | Sakura Succubus 4 | 18th August 2021 |
| 685 | Sakura Succubus 4 | 18th August 2021 |
| 684 | Dark Sauce | 18th August 2021 |
| 683 | Bishoujo Battle Cyber Panic! | 18th August 2021 |
| 682 | Task Force Kampas | 16th August 2021 |
This article has been viewed 6826 times. Thanks for your support!
---
0 Comments
---