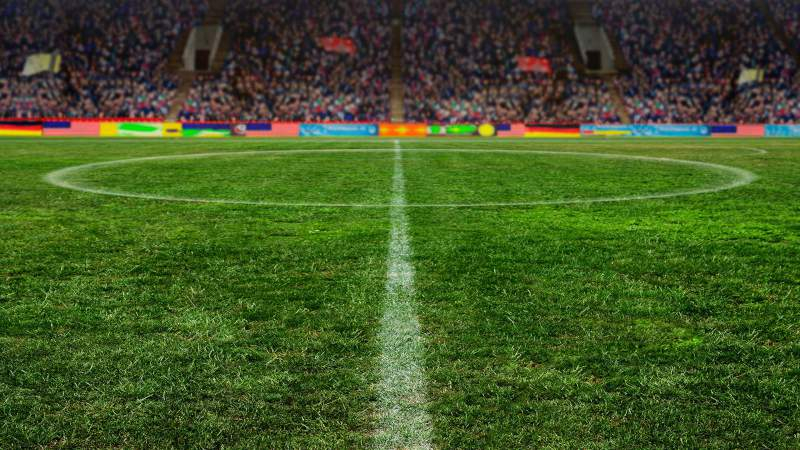 If you think you know your football, why not test yourself in my Premier League Predictor? Earn points for correct scores and results and see how you rank in the leaderboards.
For about the past 6 years I've been running a free-to-play predictor league for the Premier League, World Cup and EURO tournaments. It's gone through a lot of changes with a variety of new features added to make the game easier to manage and more fun to play but this year it's gone back to basics and all you'll need to do is predict the scores for all of the Premier League matches each week. The closer you get to the right score, the more points you'll get and the higher you'll find yourself up the leaderboard.
Optionally there is a Premium League where you can pay a £10 entry fee and qualify to win prize money depending on how well you do, but if you're just interested in seeing how well you can predict football scores, the free game is open to everyone. All entry fees are paid out as prizes and over the years we've awarded almost £1000 to the winners. The prize fund is around £200 on average, but the more players we have, the more prize money there is to give away.
This year the Premium League prize breakdown is as follows:
| Winner | Prize |
| --- | --- |
| Overall 1st Place | 40% |
| Overall 2nd Place | 20% |
| Overall 3nd Place | 10% |
| 3x Weekly Winner Draw | 10% |
---
Scoring Points
I tried to make the point system as easy as possible to understand, while also rewarding players for getting closer to the correct score. Nobody is going to guess every score correctly so it's only fair that the person who gets closest is the one who earns the most points.
There are 10 points available for getting the Correct Result. This means that regardless of the score, you got the right outcome of the game. Either a Home Win, a Draw or an Away Win.
Correct Score: 10 Points + Goal Bonus
If you managed to guess the exact score correctly, you get a bonus point for each goal you predicted, so if you said it would be 2-1 and it was, you'd get 10 points for the correct result and a bonus 3 points for predicting 3 goals ending up on 13 points.
Correct Result: 10 Points - Goal Penalty
If however you got the result right, but the score wrong, lets say you predicted 2-1 but it was 3-0, you'll get your 10 points for the result, but because you got 2 goals wrong (1 for the home team, 1 for the away team), you'll lose 2 penalty points and end up on 8 points.
Incorrect Result: 0 Points - Goal Penalty
If you got it completely wrong, you'll get 0 points for the result and lose a point for each goal you predicted so you could quite well end up on negative points for the game.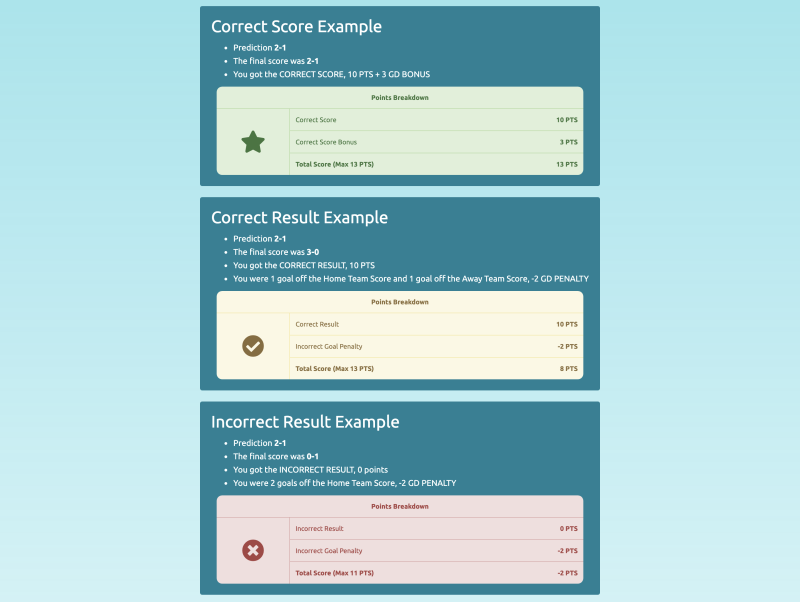 I personally feel this point system works better than fixed points for getting the correct score as it rewards players who take more risks and predict more goals in the game. If you're right you'll get extra bonus points but of course if you're wrong you'll lose more penalty points.
All of the match scores are added up to create a weekly score and an overall score which covers the whole season and you'll see a breakdown of these in the
Leaderboards
.
If you've never played before, see the instructions below on how to get started.
---
Step 1: Create an Account
If you don't already have an account, visit the
Register
page to create one. You'll need to enter:
Your email address

This will be used to log in and you'll also receive reminder and result emails to it.

Your preferred display name

This will be shown in the leaderboards.

Your password

This is used when you log in. It's encrypted in the database and can't be read by anyone (even me) so it's safe.

Optionally, your mobile number

If you use WhatsApp I can send out reminder messages each week to make sure you don't forget to update your predictions.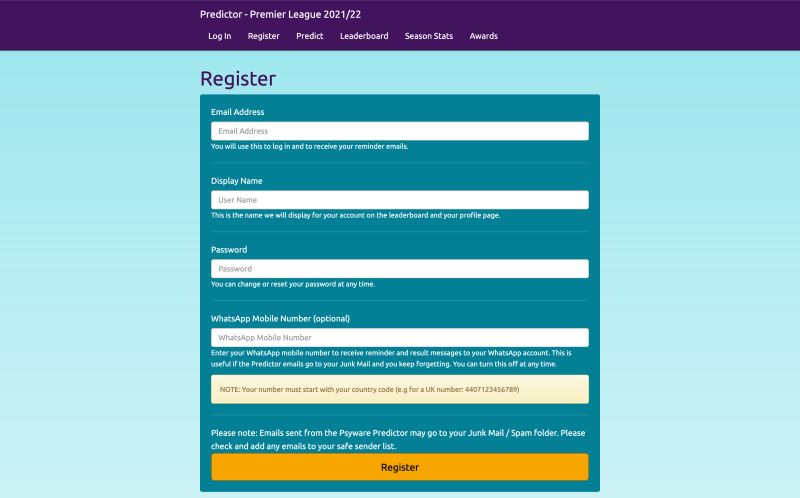 ---
Step 2: Log In
Once your account has been created you'll be automatically logged into it. If for some reason you're not, visit the
Log In
page to do so manually with your email address and password. If you've forgotten your password you can reset it but this will send an email to your email address with a link you'll have to click. If you're not receiving the email for some reason, contact me on
[email protected]
and I'll see what I can do to help.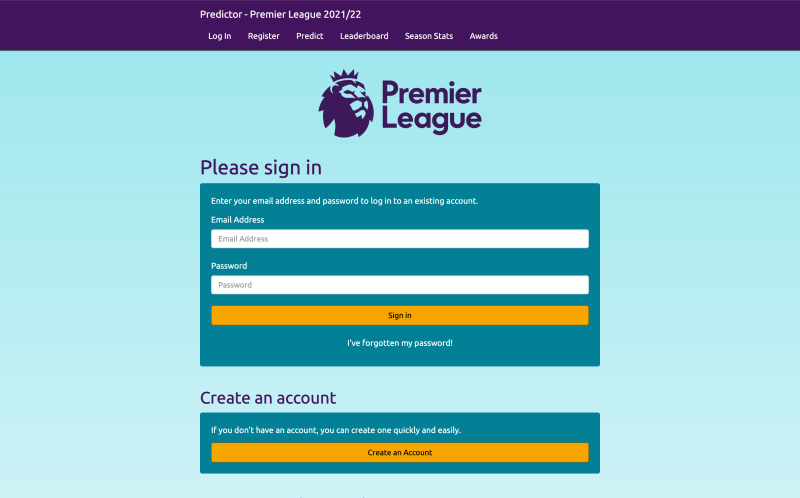 ---
Step 3: Set Up Your Account
Next up is to choose your Default Scores. You have to do this before you can start predicting manually. This is important because if you ever forget to change your predictions, we'll use your default scores so you might still earn some points. You can leave this as 0-0 or choose whatever you prefer as a start point for your predictions. All 380 matches will be set to the score you enter here but you can of course change them manually before each match starts.
Additionally, you'll need to decide if you want to play in the Premium League. You can view the terms and conditions and agree to them if you're happy to get involved, or skip straight to the next step. You can choose join the Premium League at any point so if you don't do it now, it's not a major issue.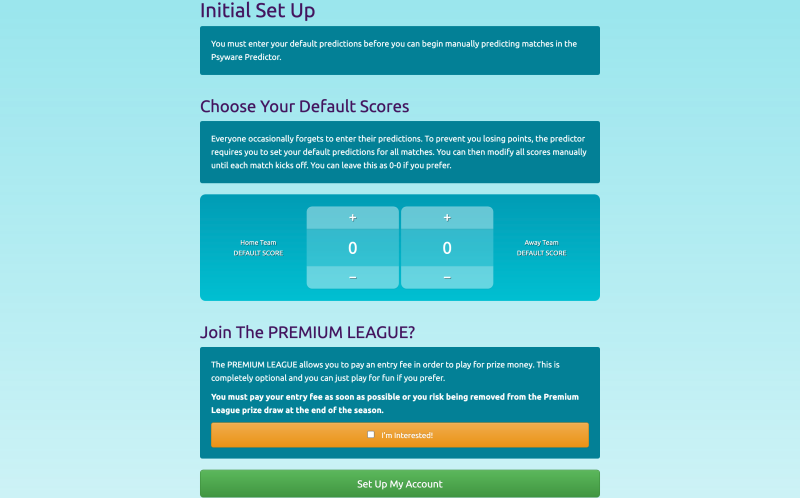 ---
Step 4: Default Predictions By Team
If you want to further customise your default predictions, there is functionality to set the starting score for each of the 20 teams for both their home and away matches. This means you could say for example Liverpool will score 3 goals in every home game and 2 goals in every away game. Again, you can change these predictions manually before each match, but it means if you forget, you've already predicted them.
This step is optional and if you want to leave all of the scores as 0-0 (or whatever your initial default score was) you can do that too.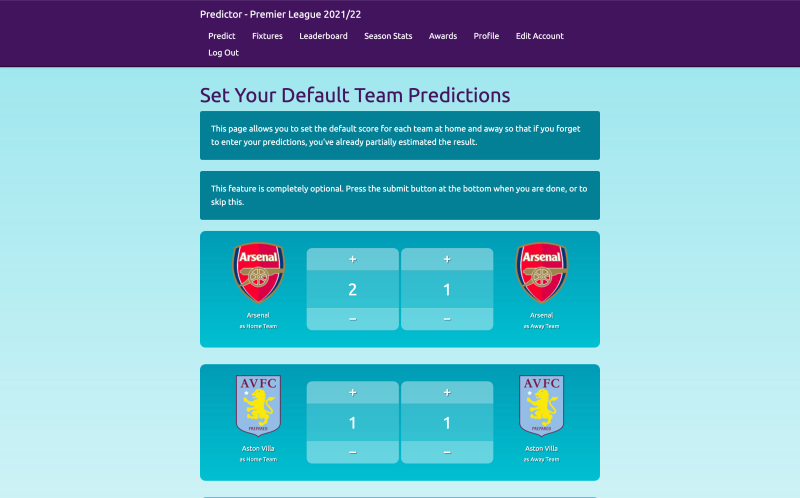 ---
Step 5: Begin Predicting!
You're all done with the set up. You can now manually change the scores for each match up until their kick-off time. You'll receive a reminder email around 24 hours before the first game kicks off and if you entered your mobile number, I'll try to send you a WhatsApp message within 24 hours too. The final scores are entered manually so they won't appear straight away, but if you check back at the end of the day you should see a breakdown of how you did and you can check the leaderboard to see how you compared with everyone else.
To predict the scores, simply click the buttons to increase or decrease the goals for each team. Once you've done all of the matches for the week, click Submit Predictions at the bottom. You need to do this before they're saved. After that, just wait for the matches to be completed and hope you did well!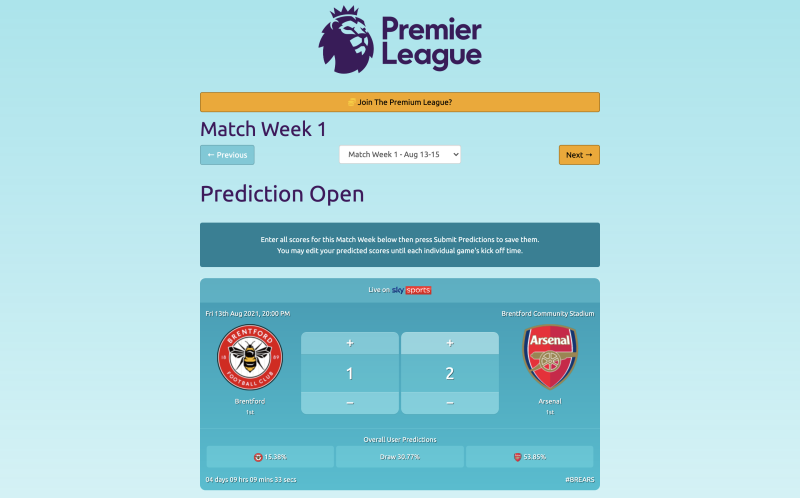 ---
That's all there is to it. If you have any problems feel free to contact me, otherwise I hope you enjoy playing along with everyone else.
This article has been viewed 8274 times. Thanks for your support!
---
0 Comments
---