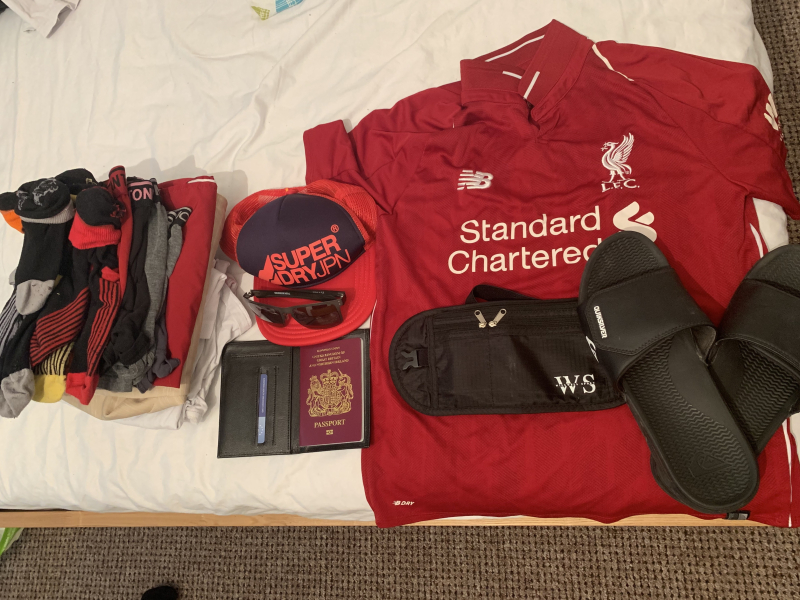 After missing out on the UEFA and official LFC ballot, we bought 2 tickets for the Champions League final in Madrid through fanpass for over £8,000. It didn't go well.
First of all, let me say my primary purpose for writing this post was to leave a Trust Pilot review for fanpass so that no one else makes the same mistake, but I thoroughly expect they will either get the post removed or add a comment to make it seem like we were just unlucky this one time, so I'm putting it here so that it can be accessed forever. Their reviews are very positive which is what encouraged us to spend ridiculous money through their website, so hopefully a more realistic one will help people come to their own conclusions.
We're the mighty Liverpool and we're goin' to Madrid
Having been to all of the Champions League games at Anfield for the last 2 seasons including attending last years final in Kiev and all of our Europa League games a few years back including the Final in Basel, myself, Fraser and Alan were buzzing about reaching our second successive CL final after thumping Barcelona 4-0. We booked our flights and hotels to get us to Madrid (via Alicante) the next day. The only thing we needed was match tickets which we knew would be pretty hard to come by.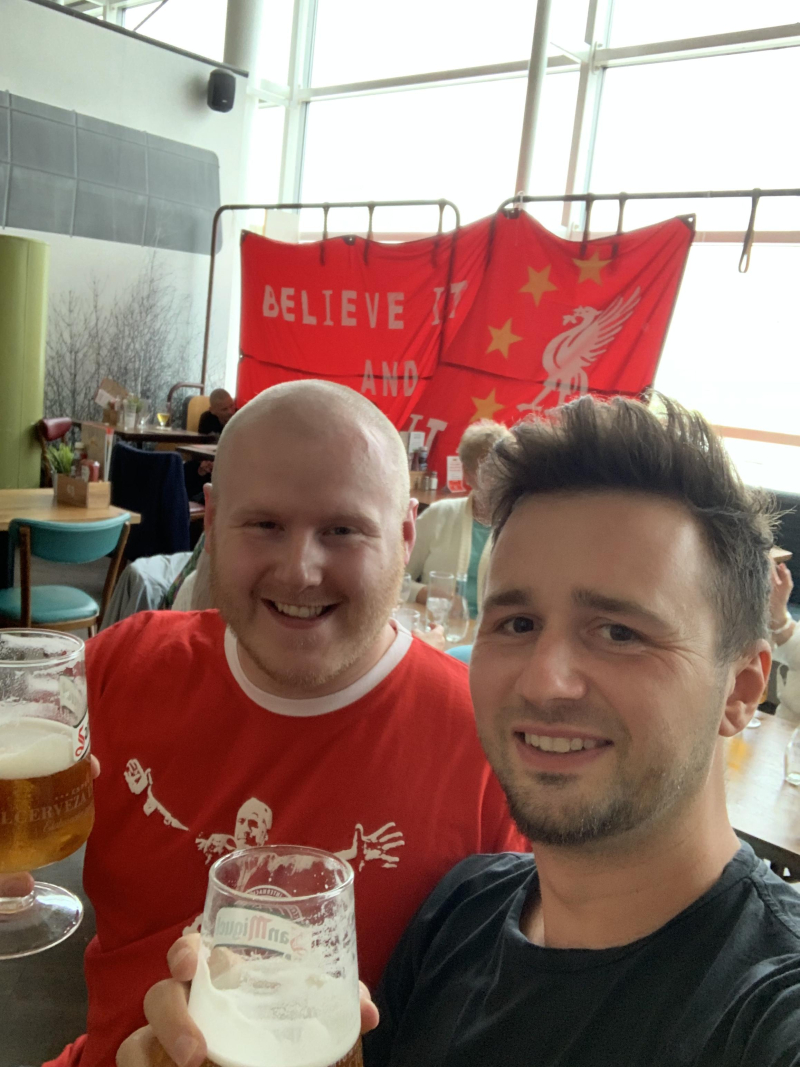 Pre-flight pints at Newcastle airport surrounded by fellow reds!
The UEFA Ballot
Earlier in the year we'd all entered the official UEFA ballot, not exactly expecting to get back to the final. None of us got lucky. What actually happens in this ballot is people from all over the world get the chance to qualify to buy tickets for a game that almost none of them intend to go to. If they're lucky, they get to re-sell their tickets online for up to 50x face value by ripping off desperate genuine fans.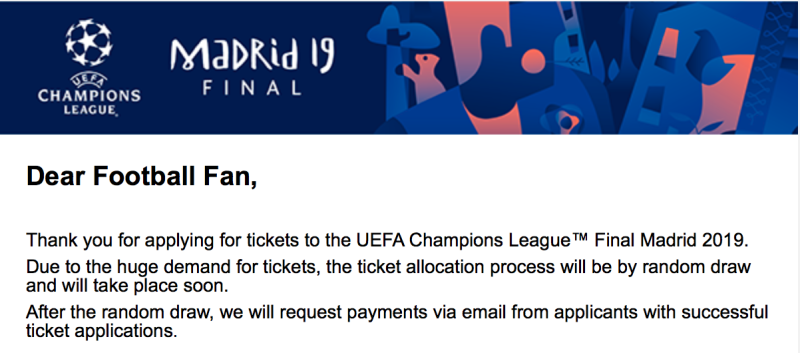 Official UEFA Ballot Entry Confirmation
The LFC Ballot
Given we hadn't been to any away games (which are notoriously difficult to get tickets to) the three of us were placed in the official LFC members ballot. When it was finally drawn, none of us got lucky. Out of 26,000 people I ended up 15,000th in the reserve list. Luckily one of our friends got a ticket who couldn't make Madrid so passed it onto us for face value. One down, two to go...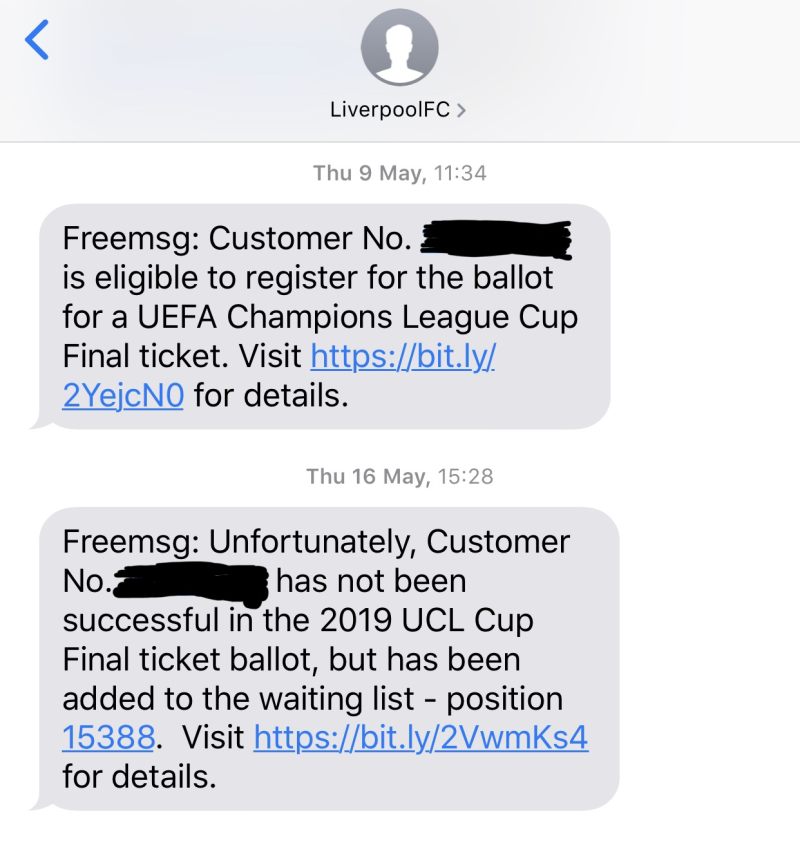 Official LFC Ballot Entry & Results
After scouring the web every day and bidding on numerous auctions on eBay from UEFA ballot winning ticket touts from Birmingham (eBay user
faz_manutd
... yeah, I know... who sold his 2 tickets for £6,000) and a guy in Italy (eBay user
bentimar
whose auction for 2 tickets went for over £8,400), we were left with no option but to use a ticket resale website. We'd used Viagogo in the past for the Europa League final in Basel and things worked out alright in the end (after a rocky start being told our tickets couldn't be provided), but they didn't have any tickets for the Champions League Final. That's when we found Fanpass...
Fanpass.co.uk Review
After waiting for the ticket prices which started out at around £2,500 each (before fees) to go down in price, only to discover they were only going to keep going up, we eventually spent £8,116.50 on 2 tickets (including over £1,700 "handling fees") for the Champions League final.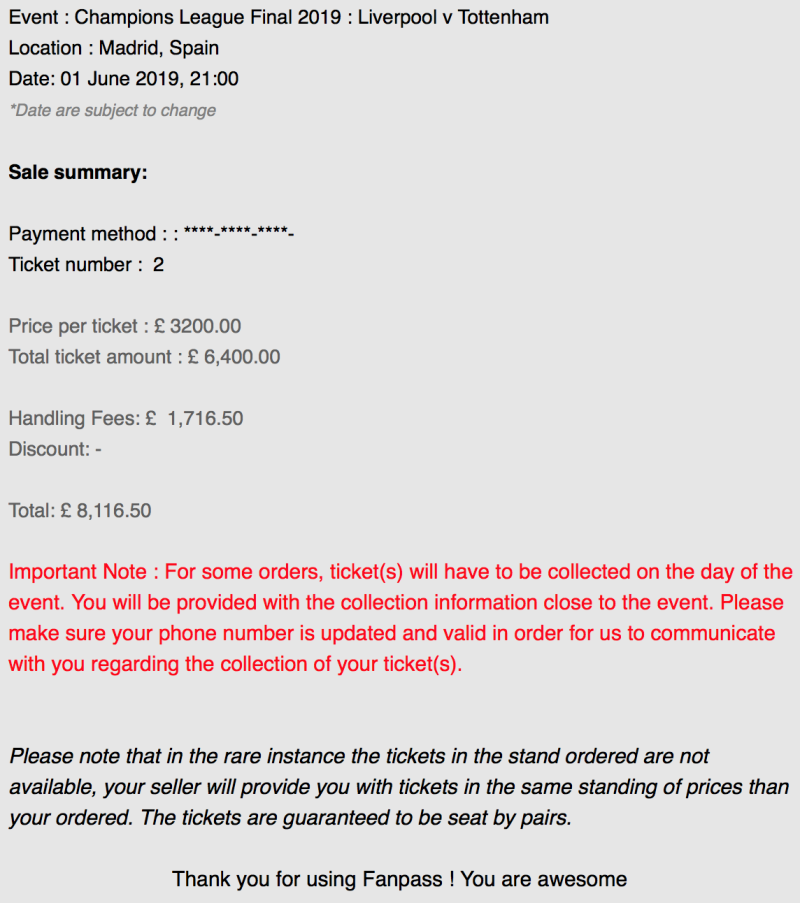 Fanpass Order Confirmation
After the purchase I instantly received a confirmation email which suggested the seller had 24 hours to confirm the sale. About 10 seconds later I got the confirmation. Get in! Although it was expensive, we finally had tickets! Because we were going to split the cost between the 3 of us like we did last year, it was going to work out at around £2,700 each, which is absolutely stupid for a football match, but given the demand for tickets, the ease of getting to Madrid and the chance to see us win the European Cup, wasn't actually too bad value for money.
A few days before we set off for Alicante I contacted Fanpass curious about my tickets as I'd heard nothing about delivery. I had to give a Spanish address to guarantee we'd get them on time so I gave our hotel address in Alicante, but then asked if the seller could meet us in Madrid. 48 hours before the game I was sent his contact details and he messaged me on Whatsapp saying he would meet us at the stadium at lunch time on the day of the game. The tickets were towards the Tottenham end, but fans were getting tickets anywhere and everywhere so that wasn't a problem for us.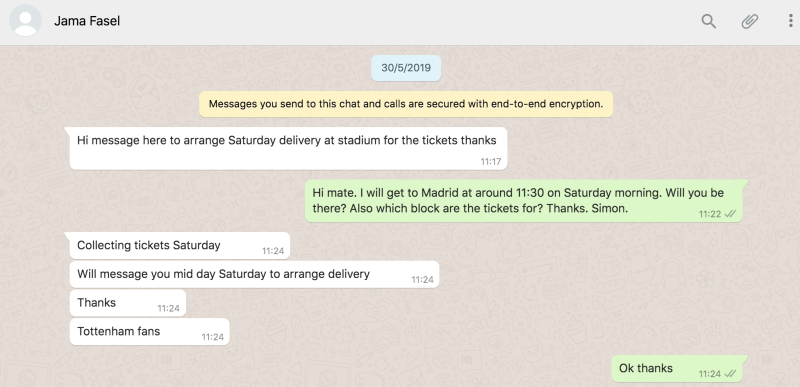 Seller Jama Fasel confirming the ticket delivery
Fast forward a few days and we're on the train to Madrid. I messaged the seller, who we shall call Jama Fasel (which coincedentally is what he calls himself too - although I suspect this is a fake name given I can't find anything about him online... Luckily for him...) in the morning asking what the plan was and had no reply. I messaged again at lunch time and got the reply I had already resigned myself to expect... "The tickets can no longer be provided". He didn't even apologise. Apparently the person who was supposed to deliver the tickets backed out. Forgive my ignorance, but why is he selling tickets for £8,000 which he doesn't even have? Why do fanpass allow this? Why don't they require proof that the trusted sellers (which this guy was listed as) actually have the tickets they're ripping off genuine fans for in the first place?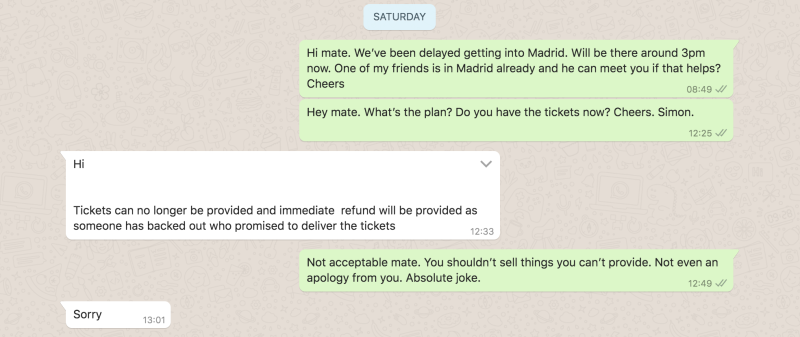 Seller Jama Fasel letting us down for the £8,000 tickets he didn't even have
I contacted Fanpass immediately and they did get back to me very quickly promising a refund (which I did receive in full 3 days after the event) and said they would look for alternative tickets as well as banning the seller from their website but the damage was already done. We knew there was no chance of finding alternative tickets and even if we did, they said we wouldn't receive the refund for up to 10 working days so we had no money to buy replacement tickets on the day regardless.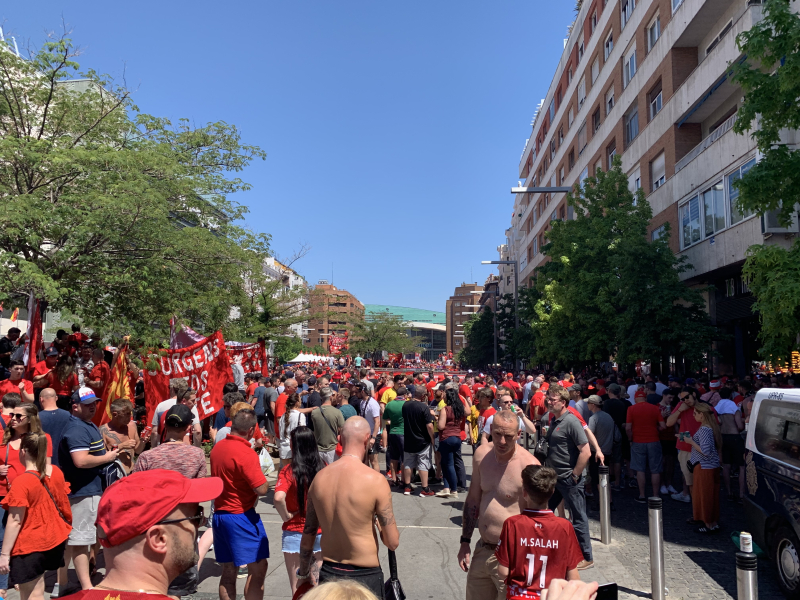 LFC fan park in Madrid. Took us an hour just to walk through it. Amazing atmosphere.
After a few more emails back and forth during the day with fanpass and no replacement tickets, we travelled to the stadium and found a bar with the game on. Myself and Alan watched it there while Fraser went to the ground with the one ticket we had. As great as it was to be in Madrid with 50,000 plus Liverpool fans, singing songs and drinking double pint beers, it's hard not to feel the experience was soured by our "100% guaranteed tickets" not turning up and costing us the chance to experience history being made as the mighty Reds won their 6th European Cup.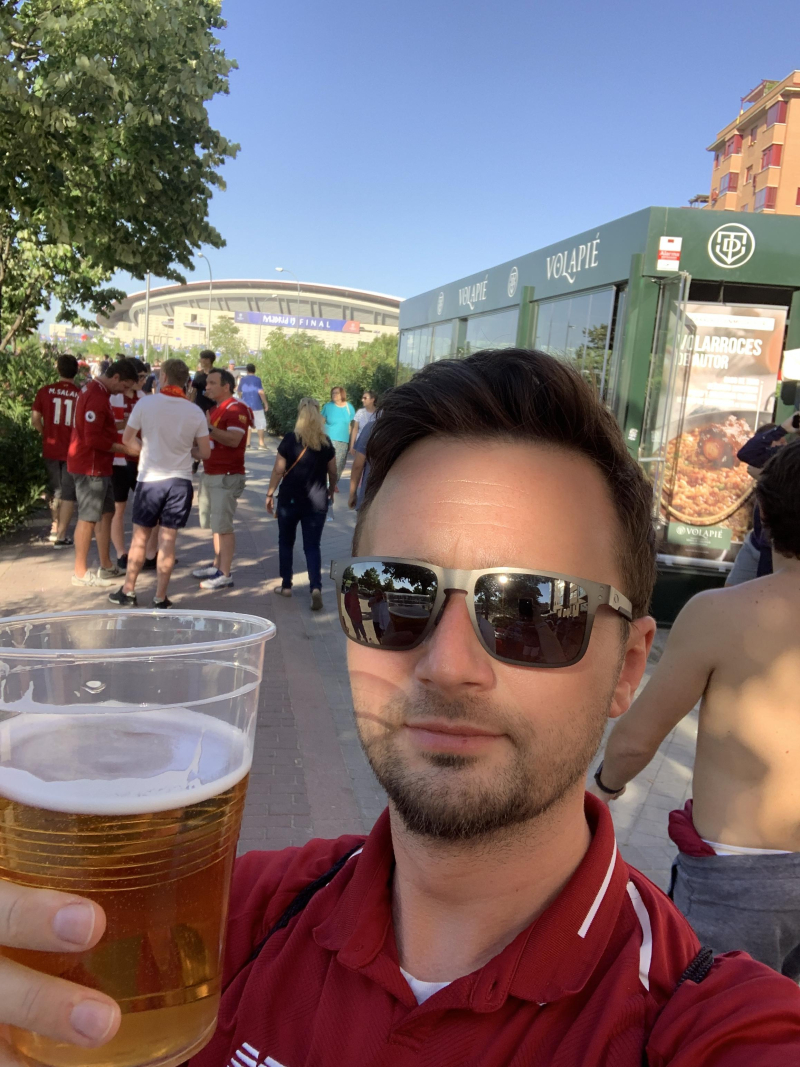 Ended up watching the game in a bar across the road from the Wanda Metropolitano Stadium
To Conclude
Although it's not directly the fault of fanpass that their seller broke out of their contract of sale, the fact that they initially charged us £1,700 (which we did get back) for tickets they didn't even know existed is an absolute joke. Ultimately after missing out on 2 ballots and refusing to spend crazy money on eBay we knew tickets were going to be almost impossible to obtain and with a guaranteed refund it was worth the risk, but getting our money back can't mask the disappointment we felt for missing out on the final.

Order Cancelled by Fanpass (and then refunded). Cheers

[email protected]
I contacted fanpass to make them aware that I would be writing this review and asked if there was anything they would like to offer us to compensate our frustration, however they have been remarkably quiet since the refund was processed.
Fanpass.co.uk Overview
Positives
+ Fast responses to queries
+ Got our money back
Negatives
- Allow 'trusted sellers' to sell tickets they don't even own
- The only thing "guaranteed" about their tickets are that you'll receive your money back when they don't turn up
- Extortionate "handling fees" despite the fact that don't actually handle anything to do with the tickets
Anyone else had any experience with Fanpass or other ticket touting websites? Did you have better luck than us with Champions League Final 2019 tickets? Let me know in the comments below!
This article has been viewed 3746 times. Thanks for your support!
---
0 Comments
---